WO/2011/158022

« Sensing physical parameters using birefringence »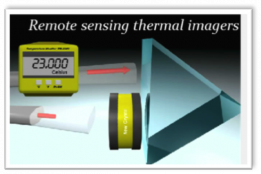 A.M. Glazer, P.A. Thomas, N. Zhang, A. Bartasyte, D.S. Keeble
Oxford University & Warwick University (2011)
Description: Li0,988Ta1,012O3+d zero-birefringent single crystals was successfully obtained by vapour transport equilibration from commercial congruent LiTaO3 crystals. This allowed to fabricate remote thermal sensing imagers based on zero-birefringent crystals. These imagers present several advantages:
No need for wire connections;
Only the crystal in the environment;
Remote light source, measurement & processing electronics;
Independent on crystal thickness & orientation;
Detection of temperature changes within mK range.
WO/2013/EP55454
ACOUSTIC WAVE DEVICE COMPRISING A LITHIUM NIOBATE AND/OR LITHIUM TANTALATE MATERIAL WITH AN OPTIMISED, LOW-TCF COMPOSITION, AND METHOD FOR MANUFACTURING SAID MATERIAL

A. Bartasyte and O. Elmazria
University of Lorraine (2012)
Description: Temperature coefficient of frequency of LiTaO3 single crystals was tuned by changing the Li stoichiometry. For this purpose, congruent 36° rotated Y-X crystals, available commercially, were treated by vapour transport equilibration (VTE). The TCF of leaky wave, propagating along X-axis, in 36° rotated Y-X LiTaO3 single crystals, used in SAW industry, was strongly improved in VTE treated wafers. TCF value was moved from -37.2 ppm/°C in congruent LiTaO3 crystal to -7 ppm/°C in LiTaO3 crystals with 49.43 mol% of Li2O, obtained by vapor transport equilibration. Moreover, the VTE process can be applied on big wafers and integrated to the industrial manufacturing of wafers without significant increase of costs (schematic representation of VTE process integration to the wafers manufacturing line is given above).
FR20150063360 IMPROVEMENT TO SURFACE-GUIDED VOLUME WAVE TRANSDUCERS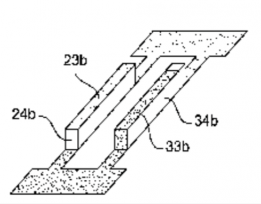 S. Ballandras, A. Bartasyte, and R. Salut
frecInIsys and CNRS (2015)
Description: L'invention concerne un transducteur à ondes de volume guidées, comprenant une plaque de substrat acoustique en matériau électriquement isolant et un réseau de sources d'excitation acoustique synchrones, le réseau comportant un premier peigne et un deuxième peignecomprenant chacun une pluralité de transducteurs élémentaires, les transducteurs élémentaires du premier et du deuxième peigne étant inter-digités et rangés selon une direction (X) de propagation des ondes de volume guidées, les transducteurs élémentaires s'étendant chacun selon un axe transversal (Y). Un transducteur selon l'invention est caractérisé en ce que chaque transducteur élémentaire comprend une électrode inférieure conductrice positionnée sur le substrat, un barreau en matériau piézoélectrique positionné sur l'électrode inférieure et une électrode supérieure conductrice positionnée sur le barreau. Application par exemple à la réalisation de transducteurs acoustiques embarqués sans fil et sans source d'énergie embarquée.