About me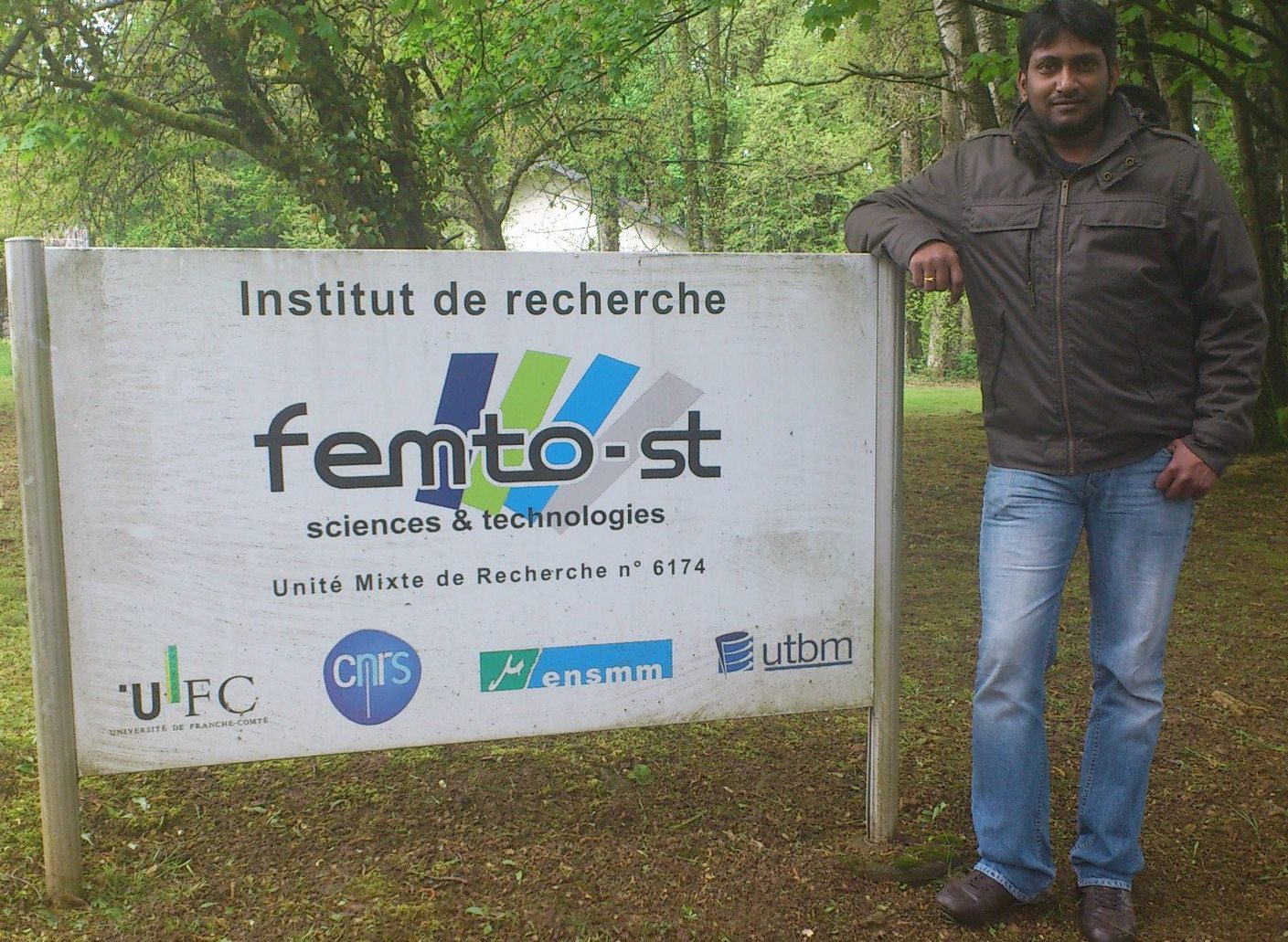 Naresh MARTURI
Researcher in Robot Vision and Visual Servoing
FEMTO-ST institute, AS2M Dept.
24 Rue Alain Savary, 25000 Besançon, France
☎ +33 (0)3 81 40 29 13
✉ Please use the contact form to mail me
I am a researcher in robotics and vision working with SPECIMeN research group in the department of AS2M (Automatic control and micro-mechatronic systems) at FEMTO-ST research laboratory, Besançon, France. My research is concentrated on developing vision-based tools and visual servoing techniques for (Nano)robotics. Since 2011, I am an active member in the French national project NANOROBUST.
In November 2013, I obtained my Ph.D. in automatique from the University of Franche-Comté. My Ph.D. thesis entitled "Vision and visual servoing for nanomanipulation and nanocharacterization using scanning electron microscope" was supervised by Dr. Nadine Piat, Professor, ENSMM and Dr. Sounkalo Dembélé, Associate Professor, University of Franche-Comté.
Before arriving in France, I spent two years in Örebro, Sweden for my masters. I am a graduate in Robotics and Intelligent Systems from Örebro University. I performed my master's degree thesis entitled "Vision-based grasping for robotic assembly cell" under the direct supervision of Dr. Ivan Kalaykov, Professor, School of Science and Technology, at AASS Intelligent Control Laboratory. Earlier, I got my bachelors degree in Electronics and Control Systems Engineering from Jawaharlal Nehru Technological University(JNTU), Hyderabad, India in 2006.
Research areas
My reseach areas are:
Robot vision for large and micro/nanoscale
Visual servoing
Robotic manipulation and assembling
Object tracking and pattern recognition

Robot localization
Humanoid robotics
Other profiles
Check out my other profiles here